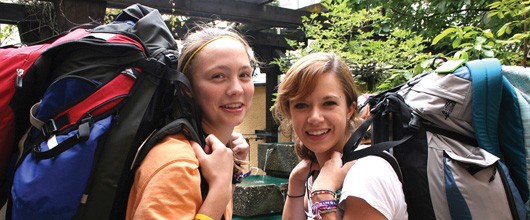 Travel
Girl Scouts love to travel—from the field trips they take as Brownies to the global adventures they go on as teens. If you love exploring different places and cultures, then Girl Scouts is the place for you.

You can experience all that our country has to offer, whether you're "blasting off" at Space Camp in Alabama, taking in a Broadway showin New York City, or visiting the birthplace of Girl Scouts' founder, Juliette Gordon Low, in Savannah, Georgia. And you can plan even bigger adventures around the world, traveling with other Girl Scouts who share your love of adventure.

Check out Girl Scout Destinations, the ultimate adventure program for girls ages 11 and older. With a ton of different trips to apply for every year—from surfing camp on the east coast and breathtakinghikes out west, to the crazy-cool wonder of new cultures abroad—there's something amazing for everyone to experience.
Make friends from all over the country as you travel with Girl Scouts from different states, see and learn new things, and pack your bagsfull of inspiring, life-changing experiences and memories. Find your trip today!

Where can you go?  Places like China, Costa Rica, Switzerland, Patagonia, Peru, Scotland, Germany, Mexico, and more!
How far will your Girl Scout experience take you? That's up to you!
Girl Scouts offers girls a chance to see the world, meet new people and learn about different cultures and ideas. Girls can travel as part of a troop, local or council-wide group, or individually through national destinations.
GSCWM International Travel
GSCWM's Travel Committee plans day and overnight trips for girls of all ages. Below is a listing of upcoming opportunities which girls can begin planning for now! For more information about the travel opportunities listed below or to suggest other trip possibilities, contact Stacy Harper at sharper@gscwm.org , 800-462-9100 x4023 (or 413-584-2602 x4023).

Switzerland and Italy 2016
From magnificent mountains to world class museums, Switzerland and Italy will wow you. Our group will travel high atop Mount Pilatus in Lucerne, cruise the Venetian canals, admire the art of Florence and Rome and enjoy a special visit to Our Chalet, the oldest of the four WAGGGS Centers. *Girls must be entering grades 9-12 the fall of 2016. Open to individual girls and troops and groups with a 4:1 girl/adult ratio. Click here for more information.
Enroll Today!
Phone: 800-457-9023      
Online: eftours.com/gsenroll
Tour Details 
Tour Number: 1622918ZM 
Current Price: $3745
Adult Supplement: $395 Adult Price: $4140
Monthly Payment (student): $215
Monthly Payment (adult): $238
Questions? Contact Trip Leader: 
Meghan Schafer at worldtraveler1912@gmail.com
GSCWM High Adventure Group
Join the fun and learn new skills. This is an open enrollment group and you are invited to join for one or more events. Open to girls in grade 6-12. For more information, click here.
2016 Scheduled Trips:
Jan 22-24 – CBB Cross-Country skiing
Feb 26-28 – Winter Camping & Skills 201
Mar 18-20 – Survival Skills 101
Apr 30 – Geocaching Family Event
May 28-30 – Survival Weekend *
Jun 17-19 – Appalachian Trail Backpacking
Open to Girl Scouts in grades 6-12
Girls are encouraged to participate in planning meetings or collaborate online!
*must attend one of the Survival Skills 101 events to attend the Survival Weekend in May.