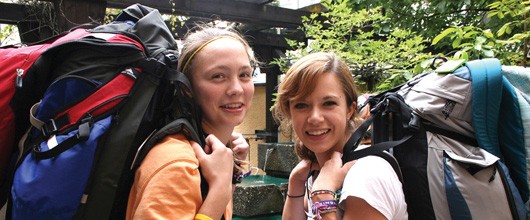 Travel
Girl Scouts love to travel—from the field trips they take as Brownies to the global adventures they go on as teens. If you love exploring different places and cultures, then Girl Scouts is the place for you.

You can experience all that our country has to offer, whether you're "blasting off" at Space Camp in Alabama, taking in a Broadway show in New York City, or visiting the birthplace of Girl Scouts' founder, Juliette Gordon Low, in Savannah, Georgia. And you can plan even bigger adventures around the world, traveling with other Girl Scouts who share your love of adventure.

Check out Girl Scout Destinations, the ultimate adventure program for girls ages 11 and older. With a ton of different trips to apply for every year—from surfing camp on the east coast and breathtaking hikes out west, to the crazy-cool wonder of new cultures abroad—there's something amazing for everyone to experience.
Make friends from all over the country as you travel with Girl Scouts from different states, see and learn new things, and pack your bags full of inspiring, life-changing experiences and memories. Find your trip today!
Destination applications are due November 5th a second round of applications are due January 20th. For more questions on Destination opportunities or to submit your application please contact Katie Chappell, kchappell@gscwm.org -800-462-9100 Ext: 3604 301 Kelly Way, Holyoke, MA 01040 ATTN: Katie Chappell- Destinations
Important Destination Deadlines:
August: Destinations begin to be released by GSUSA
Mid-September: Applications released! Begin your applications- some trips fill up in Round 1.
November 5th: Applications due to GSCWM via email to kchappell@gscwm.org or mail to 301 Kelly Way, Holyoke, MA 01040 ATTN: Katie Chappell- Destinations
November 6-25th: Phone Interviews with Destination applicants
January: Round 1 applicants notified of their status
January 20th: Round 2 applications due to GSCWM via email to kchappell@gscwm.org or mail to 301 Kelly Way, Holyoke, MA 01040 ATTN: Katie Chappell- Destinations
January 25-February 5th: Phone Interviews with Destination applicants
March: Round 2 applications notified of their status. 
Check out Girl Scout Getaways, the ultimate short travel adventure programs designed specifically for Girl Scout Troops with girls ages 11 and older. Girl Scout Getaways, are posted throughout the year.  With a ton of different trips to apply for every year—from Stand Up Paddle boarding, Whale Watches and surfing adventures out in Cape Cod on the east coast and breathtaking hikes or rivers out west, to the Ultimate American Experience of Washington, D.C. or Space Camp Pathfinder Program including your own Space Mission —there's something amazing for everyone to experience.
Is your troop planning a trip and looking for an affordable and fun place to stay? There are Girl Scout facilities in great locations around the country ready to welcome you! Check GSUSA Troop Treks, so you can start planning your next troop adventure! 
Check out Girl Scout Overseas Global Summer Camp, start the adventure of your life by attending global summer camps sponsored by USA Girl Scouts Overseas (USAGS)! Girls in grades 6-12 can visit a World Center in India, Mexico, Switzerland or the United Kingdom for a week of fun and a world of culture. 
Travel

Where can you go?  Places like China, Costa Rica, Switzerland, Patagonia, Peru, Scotland, Germany, Mexico, and more!
How far will your Girl Scout experience take you? That's up to you!
Girl Scouts offers girls a chance to see the world, meet new people and learn about different cultures and ideas. Girls can travel as part of a troop, local or council-wide group, or individually through national destinations.
GSCWM Travel Opportunities:
GSCWM's Travel Committee plans day and overnight trips for girls of all ages. Below is a listing of upcoming opportunities which girls can begin planning for now!
GSCWM Day Travel Programs
GSCWM has a variety of local and day long trips for girls of all ages. Check out our Event Calendar for travel and trip opportunities by age level. Trips are either for troops or girls with an adult.
Big Apple Bonanza!
Wednesday, April 19, 2017
Set your sights on adventure! We'll travel by charter bus so New York City where we will tour the GSUSA Headquarters, have free time in Times Square and see Matilda on Broadway. This is an adventure you don't want to miss! Registration will open soon!
GSCWM International Travel
GSCWM Program Team is beginning to plan our summer 2019 & 2020 International Travel trip! International Travel with GSCWM is open to girls entering 9th - 12th grade the summer of the trip. As a Girl Scout or Troop Leader in grades 4-12 you will be eligible for our international travel program in the future, and as a valued member, your opinion is extremely important; it is how we focus our travel planning efforts on the areas that matter most. Please take a few minutes to take our survey to help us decide Oh The Place We Will Go!
For more information about the travel opportunities or to suggest other trip possibilities, contact Katie Chappell at kchappell@gscwm.org , 800-462-9100 x3604 (or 413-584-2602 x3604).
Summer 2018
England, Ireland, and Wales: Tour departure dates*  7/5/18-7/13
Transport your troop back in time and experience the old-world wonders of England and Ireland. "Kiss the Blarney Stone" in Cork, marvel at the Gothic spires of St. Patrick's Cathedral in Dublin, and explore the bustling streets of London. From 16th-century Shakespearean works to the modern-day Harry Potter saga, it's no wonder this corner of the world is rich in literary tradition. See what you'll experience at http://girltrips.eftours.com/eLiterature/DBD/L/EIWJ.pdf. To enroll online www.eftours.com/1876095ZZ. To view the trip itinerary flier with additional details click here.
 
This trip is open to individual girls and troops entering grades 9-12 in the fall of 2018. Money earning and team building meetings will begin in the fall of 2017 but there's still time to sign up and prepare for the adventure of a lifetime! Must be registered with a non-refundable deposit of just $95 for the trip deadline to register is Dec 1 2017. 
Cancellation:
Please refer to EF Tours booking conditions, which outlines the cancellation policy: EF Booking Conditions. In addition, even if payments are made through troop funds, the travelers are still subject to cancellation fees (minimum of $300).
Coverage:
Please note that EF does offer an All-Inclusive Coverage Plan for $155. Once you sign up, payment is due immediately, or upon receipt of the next invoice (in addition to the deposits listed above this fee is nonrefundable once paid).
Payment:
Travelers have the option to enroll with the manual payment plan or to sign-up for EF's Automatic Payment Plan. This is a great way for families to make the trip more affordable!  GSCWM & EF Tours would recommend that your entire group enrolls on the Monthly Payment Plan – it is much easier to manage!
Automatic Payment Plan
-$95 Enrollment Fee
-Automatic Monthly or bi-weekly Withdrawals until a month prior to departure
-Can be supplemented with Fundraised Money to adjust Monthly Payment Amount
Manual Payment Plan
-$95 Initial Deposit
-$50 maintenance fees
-$150 due 60 days later
-$150 20 months prior
-$300 14 months prior
-$300 due 9 months prior
-tour balance due 110 days prior to departure
To register or for more information, email GSCWM Volunteer International Trip Coordinator, Meghan Schafer, at  worldtravler1912@gmail.com
The world is your oyster for summer 2018! Attend an informational meeting with GSCWM International Travel Coordinator Meghan Schafer to get all your questions answered. RSVP to worldtraveler1912@gmail.com  to attend an info session.
Information Meetings:
Summer 2018 Trip Info Night Only!
April 6, 2017 6-7pm
RSVP by March 31st
Worcester Service Center
Summer 2018 Trip Info Night Only!
April 13, 2017 6-7pm
RSVP by April 7th
Holyoke Service Center
GSCWM High Adventure Group
Join the fun and learn new skills. This is an open enrollment group and you are invited to join for one or more events. Open to girls in grade 6-12. For more information, click here.
2017 Scheduled Trips: Coming Soon
Girls are encouraged to participate in planning meetings or collaborate online!