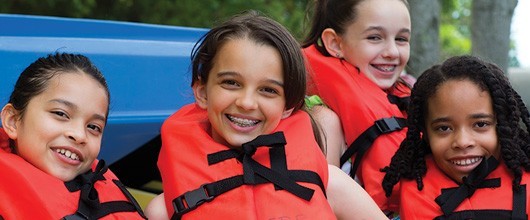 Camp & Outdoors
In a world filled with smart phones, tablets and digital-at-your-fingertips-everything, everyone needs an opportunity to un-plug. There's no better place to get away from it all than Girl Scout camp.  
 

Girls develop the kind of outdoor skills it's hard to get anywhere else. Skills like building a campfire, pitching a tent, or canoeing across a lake.

Hey, how about adding some waterskiing, rock climbing, and archery to the mix? Round things out with a ropes course, some zip lining, and maybe a week-long back-country trek, and you'll find out how much fun it can be to unplug and explore the world around you.

All girls welcome
If your camper's not yet a Girl Scout, no problem! Any girl entering grades K-12 can attend Summer Camp; non-members just add $35 to regular camp fees to cover the annual cost of membership. Our camps offer a classic summer camp experience with an emphasis on independence, living as part of a community in the outdoors, and of course, leadership. Girl Scouts of Central and Western Massachusetts is committed to providing campers with a safe place to play, learn, and grow in an environment of respect and responsibility.