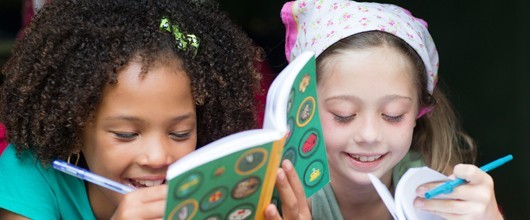 Troop and Camp Rentals
GSCWM camp facilities are available for Girl Scout and non-Girl Scout groups alike. Facilities must be reserved and paid for at least two (2) weeks in advance, but can be reserved up to nine (9) months in advance for service unit encampments and up to six (6) months in advance for troops. Reservations will be issued in the order in which they are received. To reserve a camp site, complete the Camp Facility Rental Form - Girl Scout Groups Complete Online!

Follow these steps to rent a campsite:
Confirm availability by looking at the appropriate site calendar:
Bonnie Brae 
Green Eyrie
Laurel Wood  
Lewis Perkins 
Groups with reservations will need to supply their own firewood. At Bonnie Brae there is firewood available for your use. Thank you.
2. Complete your Camp Facility Rental Form Online or download and mail or drop off your completed Camp Facility Rental Form with full payment to your local service center. Reservations will not be processed without payment.
Mail:

301 Kelly Way, Holyoke, MA 01040

Drop Off:

301 Kelly Way, Holyoke 
81 Gold Star Boulevard, Worcester
3. FULL PAYMENT is due at the time of reservation for all reservations with a fee of less than $100. For reservations with a fee in excess of $100, 25% is due at the time of reservation, with the remaining balance due four (4) weeks prior to your camp trip. 

Special Note on Payments- To comply with auditing practices, checks are deposited and credit cards are processed upon receipt. If a reservation cannot be accommodated, a refund will be issued. Checks returned for insufficient funds or credit cards declined are subject to cancellation of facility rental, unless immediate action (within 1 week of notification) is taken to correct the problem.
4. Please send current information regarding applicable certifications (i.e. first aid, lifeguard, archery instructor, etc.) with your rental form. You can attach electronic copies/scans (PDFs, JPGs, etc.) of certifications online when submitting your form or send hard copies. 
5. Upon processing of your reservation, you will receive a confirmation packet. If the requested facility is not available, you will receive a notice allowing you an opportunity to select a different facility or date, if available.
To borrow or rent equipment, complete the Loanable Resources Form.
Facility Confirmations - Girl Scouts Go Green!
Upon acceptance of your reservation, you will receive a confirmation packet via e-mail* listing the facility/building/unit you have reserved, as well as driving directions, arrival instructions, policies and procedures to follow while using a GSCWM facility, and other pertinent information.
*If you provide an e-mail address on the Camp Facility Rental Form, your confirmation packet will be sent electronically, otherwise it will be sent via US Mail.
If a confirmation packet is not received within one month of submitting your Camp Facility Rental Form, or at least two weeks before your proposed camp date, please alert the GSCWM Information & Referral Center (800-462-9100, 413-584-2602 or info@gscwm.org so a new packet may be sent.
Cancellation Process 
Cancellation of campsite reservation must be made in writing to the GSCWM Information & Referral Center info@gscwm.org or 301 Kelly Way, Holyoke, MA  01040). If a cancellation is made at least four (4) weeks before a scheduled camping trip, a full refund will be issued.  Refunds will not be made for cancellations made less than four (4) weeks in advance. 
If your reservation needs to be cancelled due to weather conditions or other site emergencies beyond our control, you will be notified.  A refund will be made if your reservation cannot be rescheduled.
A Note About Firewood 
In order to do our part in helping to control the spread of disease to our trees and the trees in our communities, bringing firewood that is not wrapped, bundled, and labeled "Insect Free" onto our properties is prohibited.We do not supply firewood at our sites. Except, Bonnie Brae where firewood is available avalilable for your use. Please be conservative, and keep in mind that our staff has limited time for firewood production.
Girl Scout Properties at Other Northeast Councils
Girl Scout Councils in the Northeast Region are opening their camps to Girl Scout troops and groups from around the region. Check out these camps for your next campout. Many are located near great attractions or easy transport to major cities.
Rates listed below are for GSCWM troops/groups and service units. All other groups, please call for rates. Special weekend packages available to GSCWM service units. Restrictions may apply.