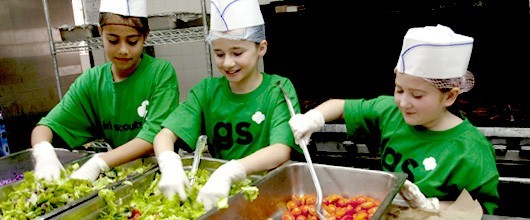 Bronze Award
Welcome to the Girl Scout Bronze Award, the highest honor a Girl Scout Junior can achieve. As you and your team plan and complete your project, you'll meet new people and have the kind of fun that happens when you work with other Girl Scouts to make a difference. Download the Bronze Award guidelines to find out how.
Upon completion of your Bronze Award Project, your troop leader (or parent for individually registered Girl Scouts), with your help, must fill out the Girl Scout Bronze Award Final Report and submit it to bronzeaward@gscwm.org. Upon receiving the Bronze Award Troop/Group Final Report, GSCWM will send a congratulatory e-mail to the address provided. This e-mail will give your leader or parent instructions on how to purchase Bronze Award pins. Pins are not available to purchase without a letter from GSCWM. E-mails will be sent within 2-3 weeks of submitting the Girl Scout Bronze Award Troop/Group Final Report.

You can pursue your Girl Scout Bronze Award if:

You're in fourth or fifth grade (or equivalent)
 

You're a registered Girl Scout Junior
 

You have completed a Junior Journey


Girl Scout Bronze Award Steps



Build your Girl Scout Junior team
 


Choose your Bronze Award project
 



Bronze Award Guidelines, Forms & Resources:
Web Resources:
If you have additional questions, contact bronzeaward@gscwm.org.