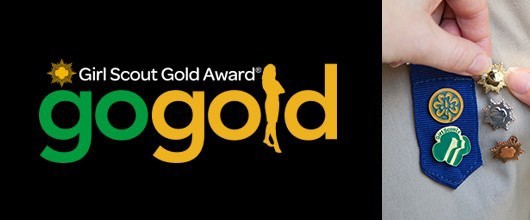 Gold Award
Mark your calendars with the Gold and Silver Award Ceremony –
Western MA Ceremony
Tuesday, June 18, 2019 (5:30 - 8:00 pm)
Hadley Farms Meeting House
41 Russell St, Hadley, MA
Central MA Ceremony
Thursday, June 20, 2019 (5:30 - 8:00 pm)
Mechanics Hall
321 Main Street, Worcester, MA
Beacon Hill Gold Award Ceremony with Girl Scouts of Eastern MA
Friday, June 14, 2019 (11:30am-2:30 pm)
State House Boston, MA
Formal invitations will be mailed out later in spring.
As your busy spring calendar starts to fill, don't forget June 18th and 20th - we will be presenting Gold Award and Silver Awards Pins and each honoree will have the opportunity to share your project with others.
If you have any questions about the upcoming Gold and Silver Award Ceremony please do not hesitate to email goldaward@gscwm.org or call 508-749-3604.
The Girl Scout Gold Award is the highest award a Girl Scout can earn. Once achieved, it shows colleges, employers, and your community that you're out there changing the world.
Join a century of women who have done big things. Learn about scholarships for Gold Award Girl Scouts, the history of the Gold Award, and the benefits of going Gold. 

You can pursue your Girl Scout Gold Award if:
 

You're in high school (ninth through twelfth grade, or equivalent) 
 

You're registered as a Girl Scout Senior or Girl Scout Ambassador
 

You have completed two Senior or Ambassador Journeys OR earned the Girl Scout Silver Award and completed a Journey
 
Girl Scout Gold Award Steps


Investigate your issue thoroughly
 

Get help and build your team
 


Present your plan and gather feedback 
 


Gold Award Orientation
Attending a Gold Award Orientation can be the most beneficial thing girls can do before beginning work on the Girl Scout Gold Award. Although optional, orientations provide valuable information about the process, the most up-to-date requirements, and suggestions about projects. Most importantly, girls will learn how to connect with the Gold Award Mentor Committee and receive current paperwork and timelines. Going for the Girl Scout Gold Award begins right here! Registration is open to groups and individuals with or without an adult. Click here for a list of upcoming Orientations. Cost is $5/person.
Gold Award Mentor Committee Meetings
The GSCWM Gold Award Mentor Committee meets with every girl who in interested in going for the Gold. To set up an appointment, simply fill out the Gold Award Project Proposal and e-mail it to goldaward@gscwm.org. The Gold Award Committee will contact you to set up an initial interview to discuss your projects ideas. You may not begin working on your project until receiving approval from the Gold Award Mentor Committee.
Guidelines & Forms
For more information or questions, contact goldaward@gscwm.org.