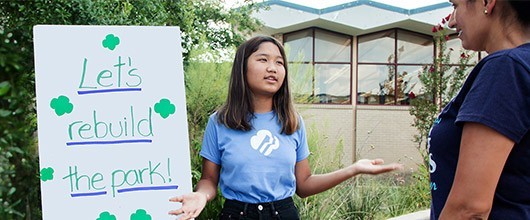 Silver Award Girl Scouts
When Girl Scout Cadettes focus on an issue they care about, learn the facts, and take action to make a difference, they gain the confidence and skills that will catapult them to lifelong success. It all adds up to the Girl Scout Silver Award—the highest honor a Cadette can achieve.  Download the Silver Award guidelines to find out how.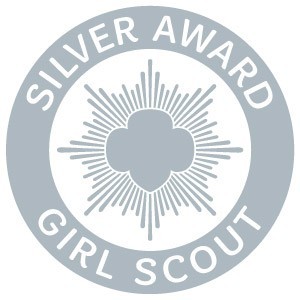 You can pursue your Girl Scout Silver Award if: 

You're in sixth, seventh, or eighth grade (or equivalent)



You're a registered Girl Scout Cadette 
 

You have completed a Cadette Journey
 

Girl Scout Silver Award Steps
 

Identify an issue you care about
 

Build your Girl Scout Silver Award team or decide to go solo
 


Pick your Silver Award project
 


Make a plan and put it into motion
 

Reflect, share your story, and celebrate
Silver Award Orientation
Attending a Silver Award Orientation can be the most beneficial thing girls can do before beginning work on the Girl Scout Silver Award. Although optional, orientations provide valuable information about the process, the most up-to-date requirements, and suggestions about projects. A minimum of 10 girls is needed per event. Registration is open to groups and individuals with or without an adult. Click here for a list of upcoming Orientations. Cost is $5/person.
Silver Award Forms & Resources
If you have additional questions, contact silveraward@gscwm.org.
Web Resources:
-  resource to find project ideas and to recruit people to volunteer with your project
Global Youth Action Network is a youth led organization working to improve the world in 190 countries
  is the largest service event in the world, also great resource to find project ideas
Prudential Spirit Awards Award to honor outstanding youth volunteerism. Great project idea listed
Taking IT Global is a global issues social network, that will highlight different issues needing to be addressed