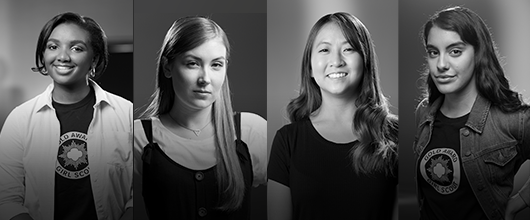 Gold Award Girl Scouts
Issues of the world, meet your match. 

Gold Award Girl Scouts are the dreamers and the doers who take "make the world a better place" to the next level.
The Girl Scout Gold Award is the mark of the truly remarkable—proof that not only can she make a difference, but that she already has.
Seniors and Ambassadors who earn the Gold Award tackle issues that are dear to them and drive lasting change in their communities and beyond. Think of the Gold Award as a key that can open doors to scholarships, preferred admission tracks for college, and amazing career opportunities.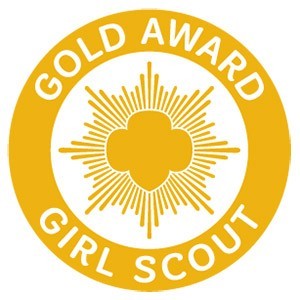 You can pursue your Girl Scout Gold Award if:
 

You're in high school (ninth through twelfth grade, or equivalent) 
 

You're registered as a Girl Scout Senior or Girl Scout Ambassador
 

You have completed two Senior or Ambassador Journeys OR earned the Girl Scout Silver Award and completed a Journey
 
Girl Scout Gold Award Steps


Investigate your issue thoroughly
 

Get help and build your team
 


Present your plan and gather feedback 
 


Gold Award Orientation
Attending a Gold Award Orientation can be the most beneficial thing girls can do before beginning work on the Girl Scout Gold Award. Although optional, orientations provide valuable information about the process, the most up-to-date requirements, and suggestions about projects. Most importantly, girls will learn how to connect with the Gold Award Mentor Committee and receive current paperwork and timelines. Going for the Girl Scout Gold Award begins right here! Registration is open to groups and individuals with or without an adult. Click here for a list of upcoming Orientations. Cost is $5/person.
Gold Award Mentor Committee Meetings
The GSCWM Gold Award Mentor Committee meets with every girl who in interested in going for the Gold. To set up an appointment, simply fill out the Gold Award Project Proposal online at GoGold.girlscouts.org and it will automatically be submitted to the council. The Gold Award Committee will contact you to set up an initial interview to discuss your Take Action Projects ideas. You may not begin working on your project until receiving approval from the Gold Award Mentor Committee.

Girl Scout USA Video Playlist
GSUSA has compiled a YouTube playlist, Go for the Gold: Tips from Gold Award Girl Scouts, to support Girl Scout Senior and Ambassadors working on their Gold Award proposal or looking to get started on it. The playlist guides girls through the seven steps to earning the Gold Award—delivered straight from a few of our exceptional Gold Award Girl Scouts. Be sure to subscribe to the playlist as more videos will be added regularly.
Guidelines & Forms
For more information or questions, contact goldaward@gscwm.org.